motivation is nil today.
so instead of doing homework and being a studious person (which is probably better because i have three papers due by saturday... but i have all day tomorrow to write them, so no worries! at least not until saturday afternoon...) i have been sitting on my couch doing nothing. and i mean pretty much literally nothing.
well, i made some tomato soup.
i did discover this website though... so far it has been fairly entertaining.
and i have also become obsessed with http://pinterest.com/... not that i have my own account, but i could really spend days looking through profiles.
so you want to know why there have been no new pictures lately?
my camera appears to have gotten itself lost. again.
i think it is a sign for jess to go and get herself a new camera.
and finally - for the grand finale of my day of doing absolutely nothing productive (ok, you gotta understand that i did actually go to class, take a test, and finished all of my homework for my understanding DNA class...) i visited my best friend youtube.
after last night, i wanted to watch more of garrett sherwood. (the guy that helped come up with deep love? yeah, i'm kinda in love.)
and this was another one of the contestants from last poet standing a couple of weeks ago. skyler didn't win, but i really liked his style. and i really liked this poem. :) it kind of reminded me of that george strait song, "check yes or no."
so to my future someone: love me like we're in second grade.
and just for the heck of it. (speaking of future "someones")
i think i've decided what i want to make tonight.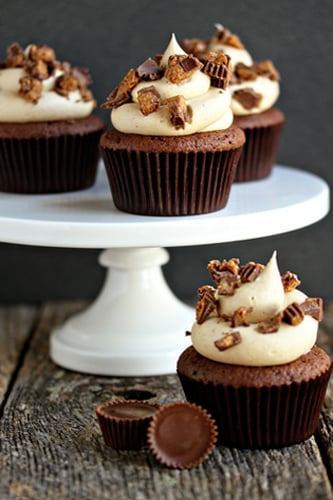 1 (18.25 ounce) package devil's food cake mix
1 (5.9 ounce) package instant chocolate pudding mix
2 teaspoons pure vanilla extract
1 tablespoon instant espresso granules dissolved in 1/2 cup warm water
24 reese's miniatures; frozen (this prevents them from disappearing into the batter)
directions
1. preheat oven to 350 degrees F. line muffin tin with paper liners or spray with non-stick cooking spray.
2. in the bowl of a stand mixer, fitted with the paddle attachment, or with a hand mixer in a large bowl, beat together the cake and pudding mixes, sour cream, oil, eggs, vanilla and espresso water mixture. beat for about two minutes on medium speed until well combined.
3. using a large cookie scoop, distribute the batter between 24 muffin wells; about 3 tablespoons of batter per well. press one frozen reese's miniature into the center of each cupcake.
4. bake in preheated oven for 18-22 minutes or until the tops of the cakes spring back when lightly touched. there will be a small sink hole in the top of the cupcakes from the reese's miniatures, that's okay – you'll cover that with frosting. allow cupcakes to cool inside muffin tins for about 10 minutes.
5. remove cupcakes from muffin tins and allow to fully cool on a wire rack. once cupcakes are cool, prepare your frosting.
for the peanut butter buttercream frosting
3 sticks unsalted butter, softened
1 cup creamy peanut butter
2 tablespoons vanilla extract
2 pounds confectioners' sugar, sifted
6-8 tablespoons heavy cream (if using milk, amount will be less)
directions
1. in the bowl of a stand mixer, fitted with the paddle attachment, or with a hand mixer in a large bowl, cream butter and peanut butter on medium speed until fluffy. turn your mixer down to low speed and slowly add in the confectioner's sugar, and continue mixing until well blended.
2. add vanilla and 4 tablespoons of heavy cream. blend on low speed until moistened. add an additional 1 to 4 tablespoons of heavy cream until you reach the desired consistency. beat at high speed until frosting is smooth and fluffy
3. pipe frosting onto cooled cupcakes and finish with chopped reese's peanut butter cups.
-----------------------------------------------------------------
i am grateful for a phone call from a friend.
that lets me know that she still loves me.